In this post, Ella Hall, CEO of Stitchroom shares how she created an affordable and well designed nursery as she gets ready for her baby!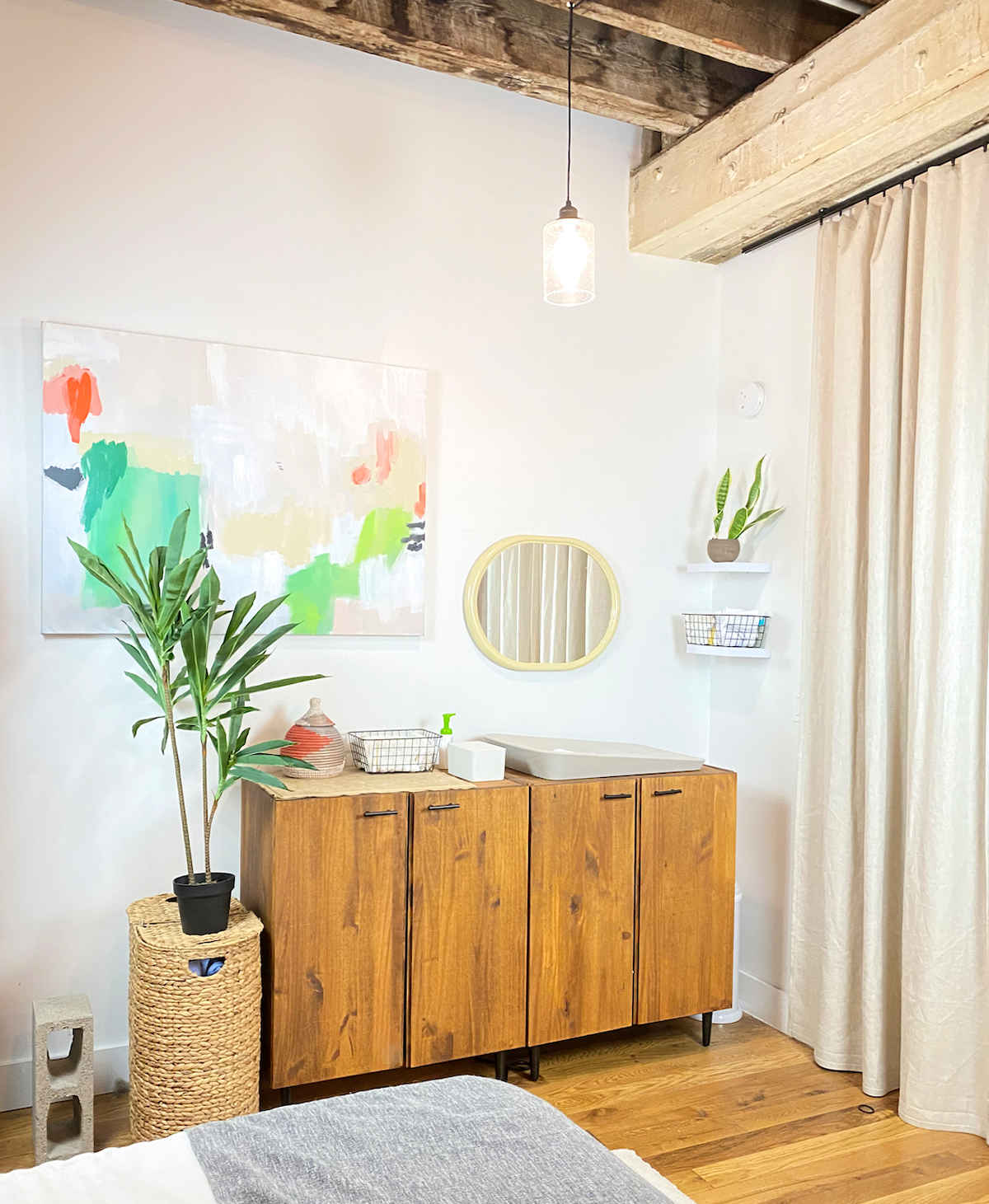 REDUCE CLUTTER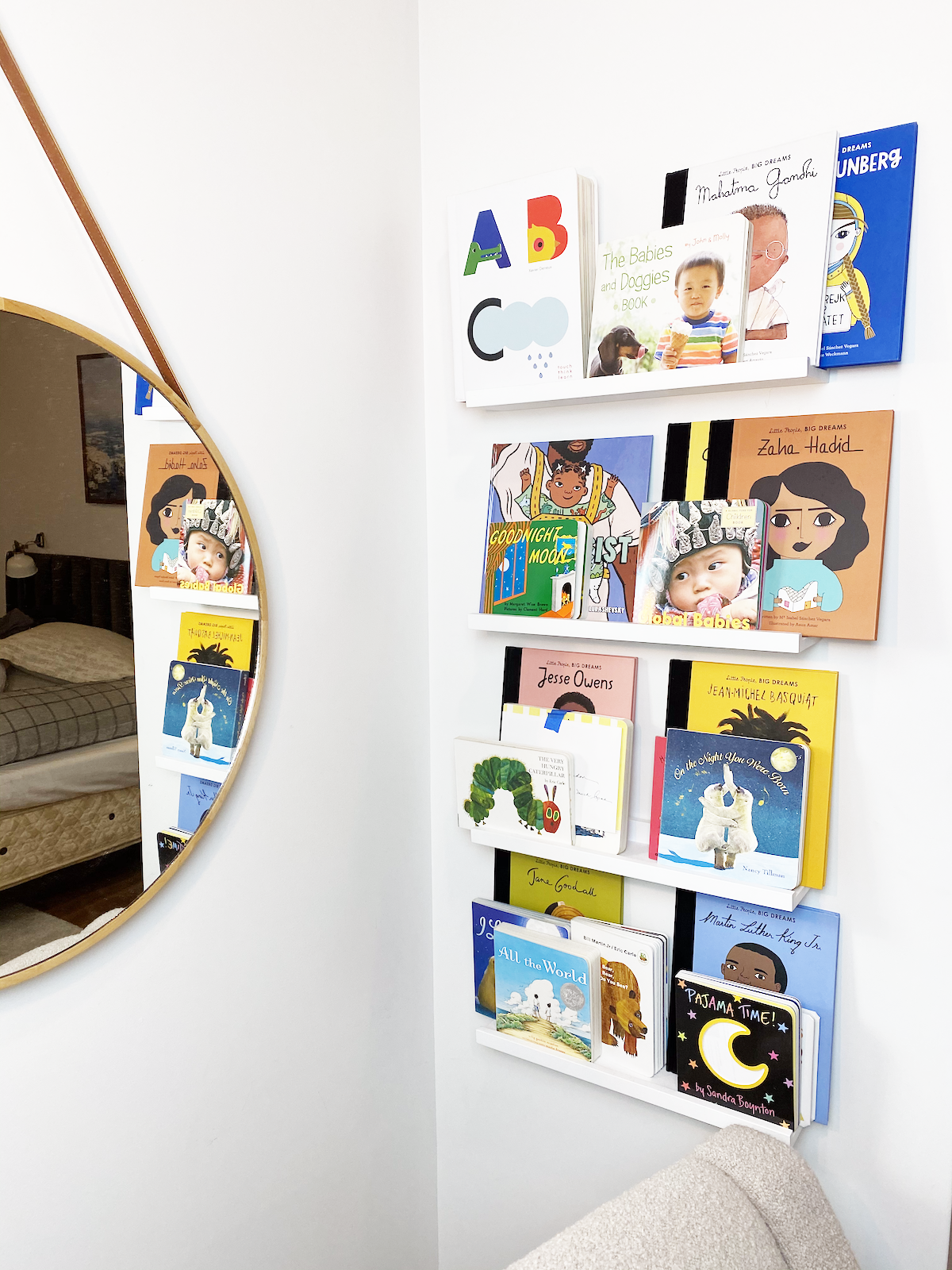 My horoscope this week told me it was time to purge, which was great validation as it's also our first nursery organization tip ;) Anything in your space that has not been used in the past six months to a year should be sold, donated or tossed, and the months leading up to welcoming a new baby are a great time to reevaluate the functionality and necessity of pieces in your home - be brutal, everything from your wardrobe to additional items you've been hanging onto are fair game. Once your space is clear, you'll be better able to make smart choices and really design the way you want, you'll also be far more prepared to add all of the baby stuff. Determine where you're going to keep the big ticket (and big dimension) items; crib, rocking chair, changing table, etc.
MAXIMIZE SPACE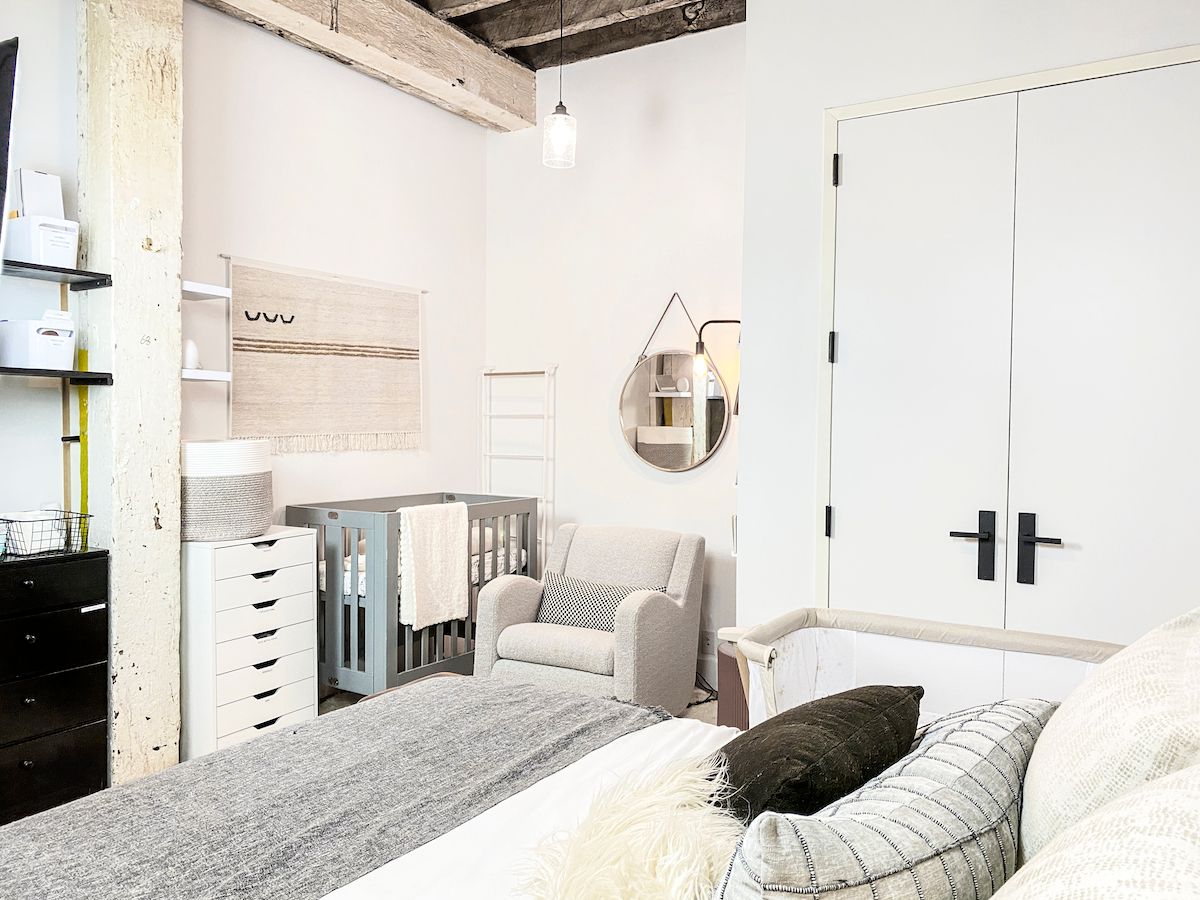 If your space has a carved out nook or small alcove (maybe a closet!?), think about how that can be repurposed as a nursery. Get creative with what you have, even if it's just a side of the room that has reduced foot traffic, it can be transformed into a mini nursery by defining the space. And remember - before you start purchasing items or adding to your registry, measure the space you're working with to ensure everything you're getting will fit.
KEEP IT SIMPLE AND CLEAN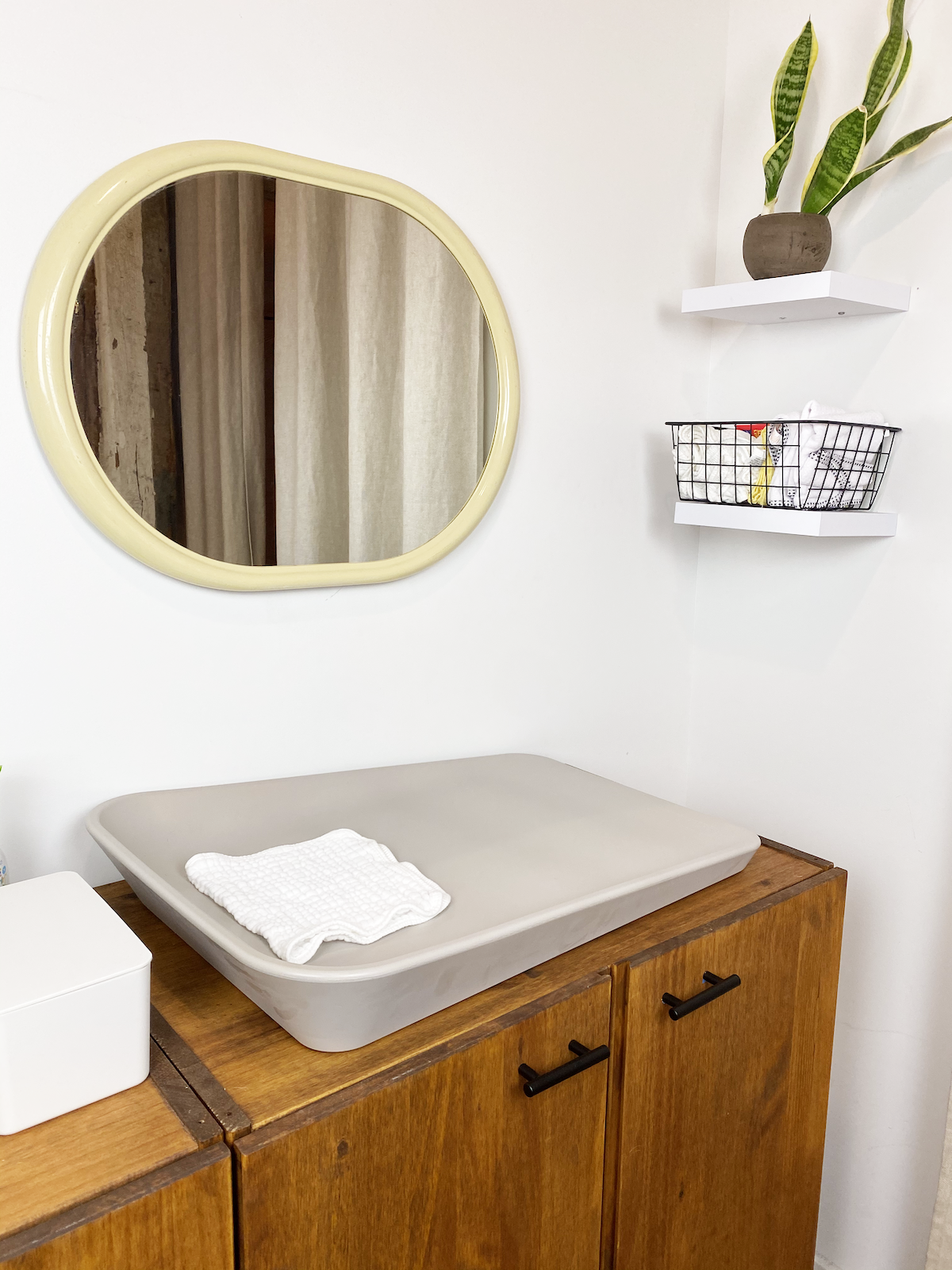 Babies don't need much in their early months. When it comes to the nursery, think about how to keep it minimal and clean, and where you can store necessary items so they're easy to find when you need them. This will help you to not trip over things when initiating a late night feeding or spend too much time rummaging through drawers to find a pacifier. I purchased these mesh wire bins for frequently used products, storage solutions like this allow you to see everything, while keeping it organized and clean.
HIDE ITEMS IN CLOSED DRAWERS AND LABEL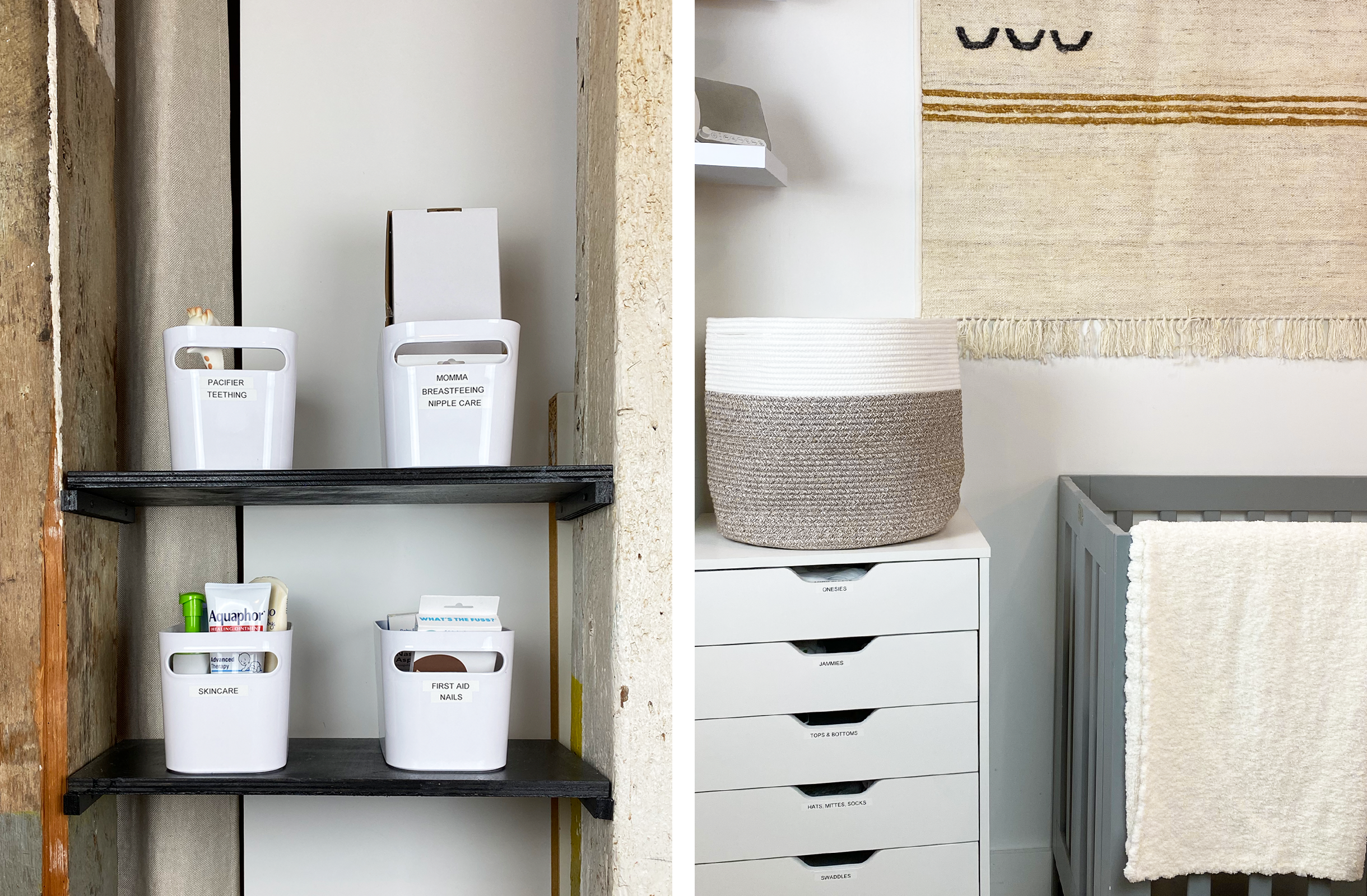 Over time you will inevitably acquire tons of baby toys, and other items that if left out begin to feel like clutter. To combat this in my space, I put together a desk filing cabinet and labeled all of the drawers with what was inside. This is easier for cleaning up my space and also when asking my partner to grab something, he can find it easily.
MATCH THE STYLE OF THE BABY FURNITURE TO YOUR EXISTING DECOR
One way to easily integrate baby decor into your home is by following the design style you've already established. Find colors and textures of furniture that complement your decor. This will help to seamlessly blend your baby gear with your adult home decor! I chose neutral colors with nubby textures for the upholstery and pulled pieces that I already had or repurposed vintage items for the nursery.
MULTIPURPOSE FURNITURE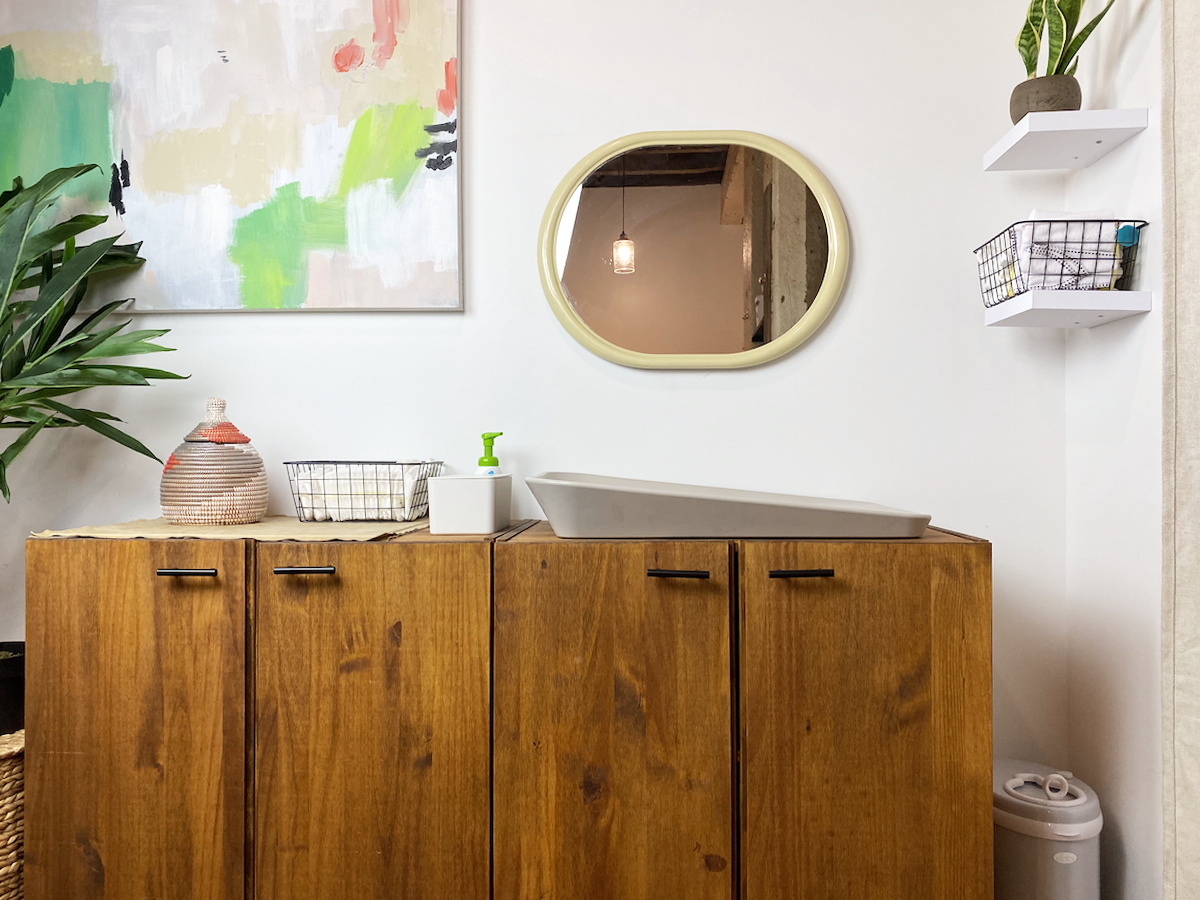 Wouldn't be a 'how to' without an Ikea hack! Instead of purchasing a changing table that may or may not get used down the road, I decided to purchase these cabinets and turn them into something that can be used as a changing table. These are Ikea cabinets that I stained myself with a natural wood stain that is non toxic. To add height to the piece, I added these legs. The height of your changing table is very important! It should be something comfortable for you to lift the baby onto, but not so short that you're bending all the way over to change the baby. To tie the space all together I added these door handles that can also be used to hang clothing. I placed a changing pad on top of the cabinet that can easily be moved into other rooms or taken off once the changing table doesn't have to be a changing table anymore.
SECOND HAND ITEMS
The glider is a vintage piece that has damaged fabric covering it. I reupholstered this piece with a neutral boucle that is soft and comfortable. It's a solid piece of furniture and a great chair that doesn't scream "NURSERY" and can be used in a living room or guest bedroom in the future. The crib is a mini crib that was free on Facebook Marketplace, it was the perfect mini size for a mini corner. Lastly, the wall hanging was an old rug that I had and finished the edges and turned it into a wall hanging. Isn't it cute!?
Key Takeaways
Reduce clutter
Maximalize space
Keep it simple
Match furniture to your existing space
Use multipurpose furniture
Incorporate second hand items